Go to Top


Introduction
[First Released–23/01/2012; Last Edited – 20/01/2013]
     Netaji Subhas Chandra Bose(January 23, 1897 - ? ) is, to the perception of this author, the greatest freedom fighter of India, and one of the greatest the world has ever seen. He has been bestowed with such titles as (apart from NETAJI – Revered Leader) –
DESHANAYAK(Leader of the Nation) by Rabindranath Tagore,
PATRIOT OF PATRIOTS by Mahatma Gandhi,
HIS MAJESTY'S OPPONENT by P B Chakraborty(Chief Justice of the High Court at Calcutta),
BOW OF BURNING GOLD by Hiren Mukherjee( highly respected leader of the Communist Party of India )
and so on.
    His historic roles in the achievement of India's freedom from the British yoke, in the development of Indian nationalism irrespective of religion, cast and creed, in sowing the seeds of all round national development through planning etc. are immeasurable. It is our national shame that these are not yet properly recognised by the powers that be. Even then, we, the Indian Nation and our polity have adopted some of his singular contributions to our national life – "Jana-gana-mana-adhinayaka" as National Anthem, "Jai Hind" as National Salutation, National Planning as the prime-mover of development, and esteeming Mahatma Gandhi as the "Father of the Nation".
 He has become a legend in his active life time, and a beacon to all those striving for emancipation of each and every kind - political, economic, social, cultural and others.
This website is quite a humble attempt to project the various facets of the life and works of this great son of India. The Articles/Write-Ups will be very concise but definitive – based on facts supported by original references and sound logic.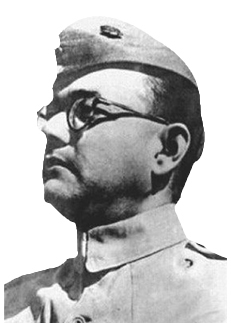 Note - This site, inaugurated in an exceedingly modest form on January 23, 2012(Monday), a singularly auspicious day( being the 116th Birthday of Netaji), is expected to grow with time. The readers are requested to kindly contribute towards its development in all possible ways viz. pointing out errors if any, suggesting improvements, forwarding articles, posting their views in the social networking sites etc.
Acknowledgement - The author wishes to put on record his indebtedness to his wife Runu for her all round support; to Prof. Purabi Roy and Mr. Girish Chandra Maity for their help in acquiring knowledge regarding Netaji and related matters; to Prof. Debabrata Roy, Prof. Subrata Roy and Prof. Ramaprasad Dey for rendering highly positive encouragement and to the management and staff members of Ramakrishna Mission Institute of Culture LIbrary, Kolkata for excellent services. Thanks are also due to Mr. Satyajit Chatterjee, Mrs. Anusree Sen, Mr. Rajsekhar Nag and Mrs. Tanushri Ghosh Dastidar for their assistance in computer usage; to Mrs. Mala Banerjee and Mrs. Sanchita Sen for helping in literary matters; and many others for providing moral support.